Taggia at the Kimpton FireSky
Taggia, located inside the boutique hotel Kimpton Firesky, is an Italian gem worth seeking out in downtown Scottsdale. One of my favorite restaurants, it boasts a picturesque setting and a menu of authentic Italian with a creative flair sourcing both imported and local ingredients.
What makes this restaurant even more unique is its daily Aperitivo Hour. In Italy, this common social custom gathers friends and family together before dinner to enjoy a cocktail, or aperitivo, accompanied by complimentary bites. To take advantage of the only Aperitivo Hour in Phoenix, settle in the cozy lobby bar or relax on the pretty patio, as we did. It's especially lovely at dusk as the tiki torches are lit.
Taggia brings this Italian institution to Scottsdale from 4 to 6 pm Monday through Friday. Order a cocktail, beer, or wine and each drink is accompanied by a complimentary snack plate of Italian bites. I started with a classic Italian aperitivo and one of my personal favorites, a Negroni. In Italy, aperitivi are frequently cocktails based on bitter spirits such as Campari. Taggia's Garden Negroni is a delicious variation that adds Cynar (an Italian artichoke liqueur) to the usual blend of Campari, gin, and sweet vermouth. My husband opted for a refreshing Margarita Tranquilo which gets its Italian touch with the addition of Sibona chamomile liqueur.
Each of us received that night's complimentary pairing for Aperitivo Hour - a tasty trio of piave cheese and olives, caprese salad, and crostini with avocado and caponata.
As the sun set, we were led to our pretty table on the Taggia patio nestled next to a bubbling fountain. It was a beautiful night to dine al fresco and we were greeted by Will, our affable and knowledgeable server, who expertly guided us with wine pairings and menu choices for a wonderful meal:
Marinated and grilled calamari with smoky-tangy charred eggplant and saba puree, arugula, and a bright lemon-caper vinaigrette
Carbonara with chitarra pasta and the brilliant addition of green peppercorns to the traditional creamy egg yolk and parmesan sauce
Capesante (scallops) on top of velvety carrot puree, embellished with roasted corn and caper-avocado salsa
Tender chunks of braised veal on a bed of parmesan polenta with shallot-mushroom ragu and a rich barolo demi-glace
A finale of the best tiramisu in town, with layers of sponge cake and mascarpone mousse encased in a dark chocolate shell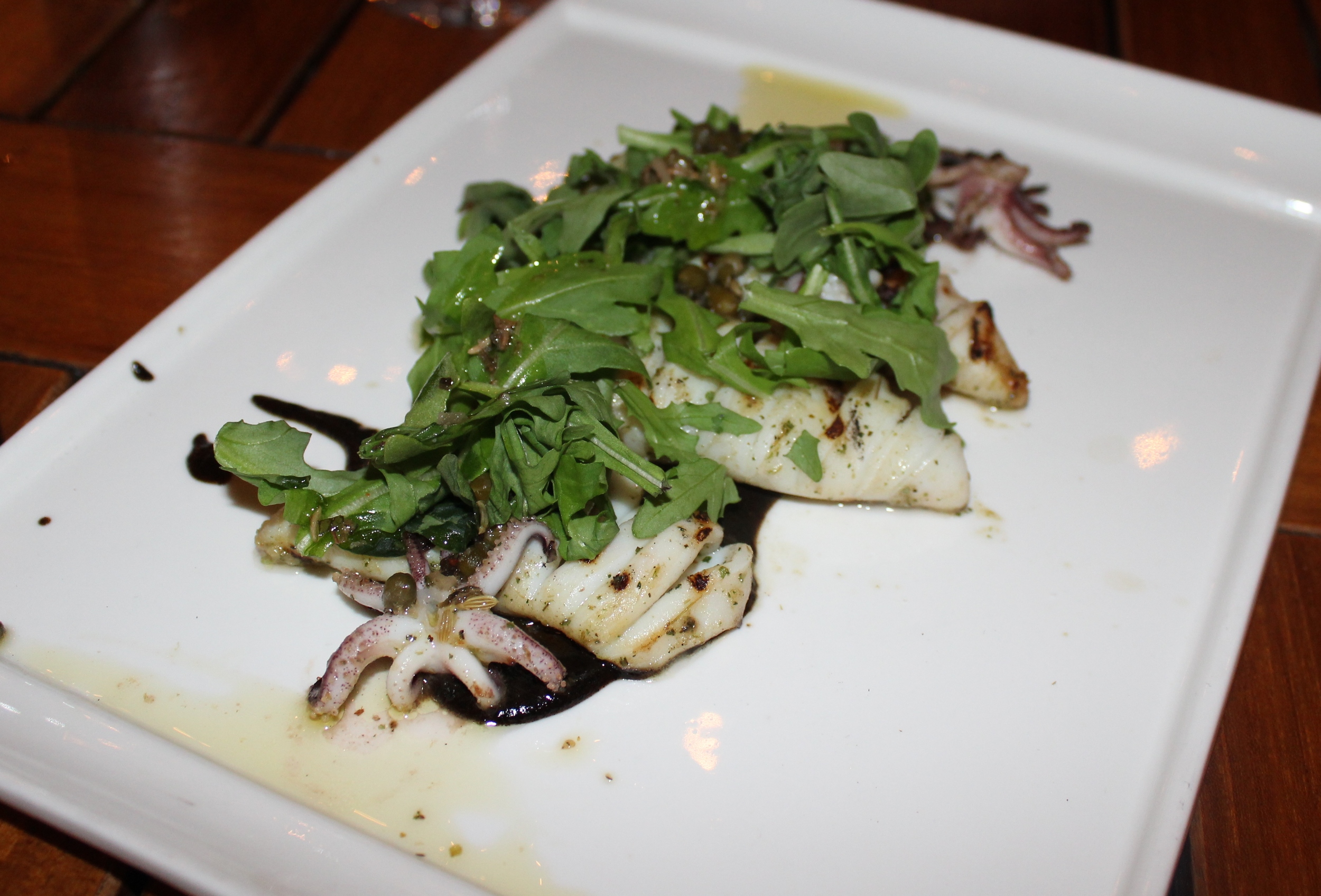 Another memorable visit to Taggia - until the next time!
We were hosted by Taggia and our experience was complimentary.