MEET THE CHEF: Chef Massimo de Francesca of Taggia
What makes Taggia at the Kimpton FireSky Resort stand out among the many excellent Italian restaurants here in Phoenix? Talented Chef Massimo de Francesca. His artful creations blend authentic Italian with a unique creative flair molded by his global culinary background. Attending the Culinary Arts (Italian) Program at George Brown College in Toronto, Canada, Chef de Francesca honed his skills working with renowned French chef Jean Pierre Challe at Toronto's Bouchon Bistro, with Michelin-starred chef Vincenzo Cammerucci at his Cesenatico restaurant Lido-Lido in Italy, and at the Westin Casuarina Resort in Grand Cayman. In 2008, he joined the Kimpton Restaurant Group at Domaso Trattoria Moderna in Arlington, Virginia and then spent 3 years in Manhattan before moving to Scottsdale and his current position as Executive Chef of Taggia.
You'll find these global influences in Chef Massimo's bacala fritters which have swiftly become a signature appetizer. "Baccala, or salted cod, is an Italian tradition," he explains. "This is something I grew up with every Christmas, every special occasion. I have it on the menu because for me, every day at work is a special occasion." Instead of the more commonly seen braised or stewed variations, he prepares the baccala as salt cod fritters, a familiar dish from his time cooking on the Caribbean islands. Chef Massimo starts by soaking quality Canadian salted cod before simmering to tenderness in milk. This is then flaked and folded into a batter sweetened with pureed butternut squash steamed with thyme. Each bite reveals a creamy-fluffy interior enveloped in a light crispy shell that melts in your mouth. He takes it a step further by embellishing with chipotle aioli ("a taste of the Southwest"), and disks of hearts of palm. "Hearts of palm has an oceanic flavor, almost briny. We get fresh wild hearts of palm from Costa Rica and poach them in olive oil, water, salt, sugar and a little lemon juice. " Finally, the dish is finished with a drizzle of lobster oil and strewn with fresh basil leaves. It's easy to see why this has become a guest favorite, and a personal must-order on my visits.
Another crowd pleaser he tells me is the burrata. "It's a creamy, buttery, fresh mozzarella" (burrata actually means "buttered" in Italian) . At Taggia, Chef Massimo pairs it with grilled batons of onion focaccia and and a warm caponata made with roasted peppers, tomatoes , sweet onion, raisins, and eggplant, simmered to a harmonious melange with Italian tomatoes, basil, vinegar, and sugar. The crispy-chewy bread and sweet-tangy caponata are the perfect partners to the milky burrata.
Calamari is another traditional Italian ingredient that shines in the hands of Chef Massimo. You won't find its delicate flavor lost in a coating of thick batter at Taggia. Here, the calamari is marinated in an herb oil made with rosemary, thyme, garlic, onion, and lemon before being grilled and dressed with a zippy lemon-caper vinaigrette. A genius supporting element is the charred eggplant and saba puree. "The puree itself is made with the skins of eggplant so that it gives it the black color, almost like squid ink, which is kind of the play on it," Chef Massimo describes. Saba is another favorite ingredient. "Saba is a naturally reduced balsamic vinegar stored in wooden casks. All the liquid and moisture evaporates and you're left with the natural grape must. Saba is a magical ingredient, it's wonderful, and it becomes a sweet complement to the natural bitterness of the eggplant in this dish." Baby arugula adds its pepperiness to the balance, and a shower of fresh lemon zest is the final touch. "It's a party on a plate," says Chef Massimo. He's right, I love it, and it's my new favorite calamari dish in town.
Mention pasta and cream sauce in an Italian restaurant and most people think Alfredo. At Taggia, you're in for a special treat with Chef Massimo's take on this familiar dish. He starts with airy gnocchi made with fresh ricotta, lemon zest, nutmeg, eggs, and parmesan cheese, rolled and cut by hand. For the sauce, he works his magic by sauteeing garlic, onions, and sweet shallots in butter and olive oil, before deglazing with brandy and finishing with a little cream and parmesan cheese. "Then we toss in some black truffle shavings and it really just makes a wonderful perfume." Speck, a Northern Italian smoked and cured ham that chef describes as "prosciutto meets bacon" also makes an appearance. "We slice it and then slowly dry it in the oven so it gets a little crispy and intensifies the flavor." To garnish, "chopped toasted hazelnuts adds a really lovely texture to the soft pillow-like ricotta gnocchi. You get that nuttiness, the saltiness of the speck, and the smooth creamy gnocchi." It is an amazing combination.
Seafood is treated lovingly at Taggia, as seen in a wonderful capesante (scallop in Italian) entree. "We start with East Coast, dry packed, sushi grade scallops. You'll see the wonderful caramelization that happens with the cast iron pan. Everyone who has our scallops say the same thing – these are the best scallops I've had in my entire life." I agree. They are nestled in a silky heirloom carrot puree whose natural sweetness is magnified with a hint of coconut milk, paired with roasted corn, and crowned with an avocado salsa brightened with lemon and lime juice and capers as a nod to a Sicilian accent. "The puree itself acts as both a sauce and a starch and is a good base for all the components. The idea is to have a bite of the scallop and a scoop of the puree with the crisp vegetables and tangy salsa." It's a dish as delicious as it is beautiful.
Brasato al Barolo, a Piemontese classic often made with beef, is transformed at Taggia with veal cheeks braised for 6 hours in a rich jus of vegetables and red wine until they are fall-apart tender. Served on a bed of creamy parmesan polenta, they are festooned with a roasted medley of pioppini, portabello, and cremini mushrooms before being draped in a rich Barolo wine sauce and finished with smoked sea salt. "It's one of the simplest dishes that we have, although it takes 12 hours to prepare the demi-glace, a reduction of Barolo, port, beef and veal stock." It's a comfort dish that is both hearty and elegant.
The same thoughtfulness is exemplified on the dessert menu, such as the zabaglione. Chef Massimo explains that it is "the Italian version of a mousse or light custard." To make this Italian dessert, "marsala wine, sugar, and egg yolks get frothed and then folded into whipped cream with sugar, lemon and vanilla." Paired with a berry salad tossed with sugar, vanilla, lemon and orange zest, and mint, it gets its Taggia touch with the enhancement of fragrant lavender and crunchy cocoa nibs.
Chef Massimo is justly proud of his tiramisu, and it's a show-stopper. "It's not your traditional tiramisu and the amount of work that goes into it is incredible." I admire the labor-intensive time that goes into this luxurious treat as I break into the dark chocolate shell encasing the layers of ethereal mascarpone mousse and sponge cake. It's a decadent finale and truly the best tiramisu I've ever had.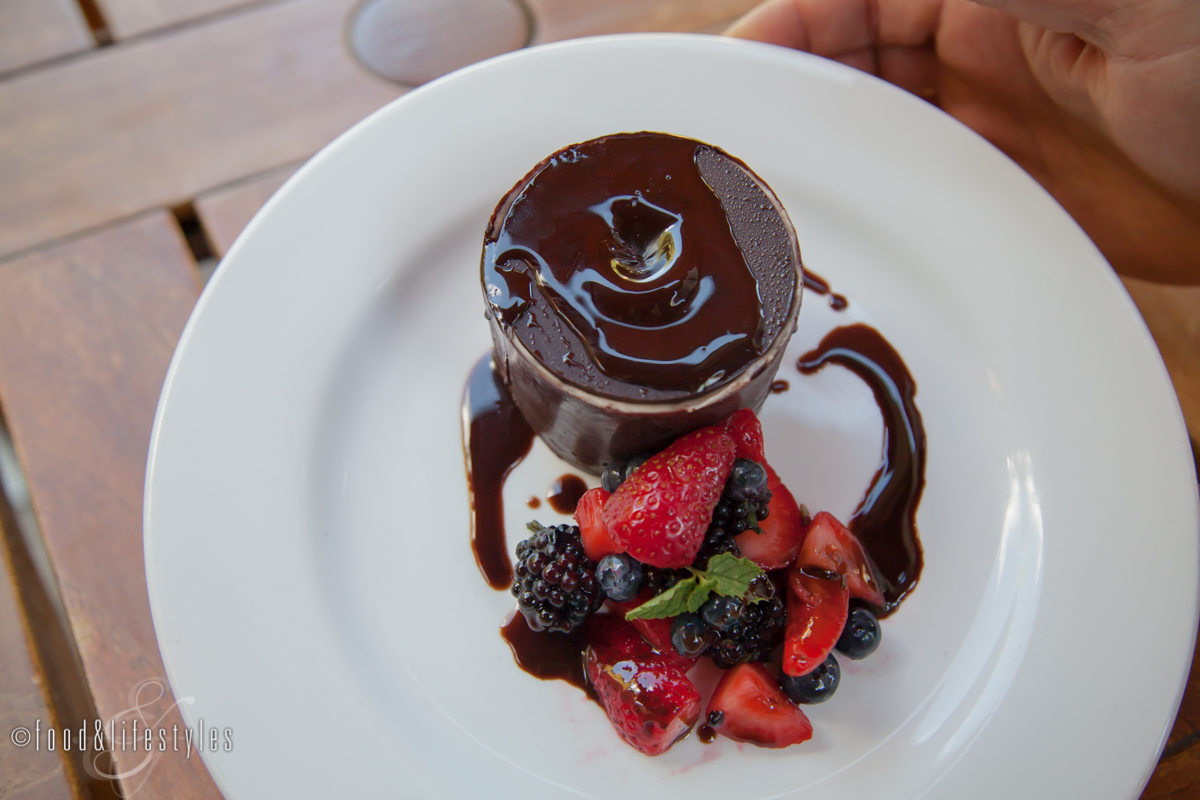 In the hands of a gifted chef such as Massimo de Francesca, you're assured to enjoy mouthwatering modern Italian fare that might just be the best version you've ever had of an old favorite. Reasonable prices for such a quality menu is a bonus and Taggia also features specials. On Mondays, 11 am to close, "Raid Our Cellar" offers a selection of bottles of wines at a 50% discount in both Taggia and the Lobby Bar. Nightly, a 3-course "Prezzo Fisso" menu is available with your choice of appetizer or pasta, entree, and dessert for $45. Starting October 5th, Taggia will be introducing an Aperitivo Hour, modeled on the Italian tradition of socializing with libations paired with small plates. With all these reasons to visit, it's the perfect time to make a reservation and see for yourself the delights to be found at Taggia.
Update: As of November 2016, Chef Massimo can be found at the Kimpton Seafire Resort + Spa on the Cayman Islands.