Gifted, passionate, innovative, fearless - these are just some of the words that come to mind when I think of Executive Chef Michael O'Dowd. I've been a fan ever since experiencing his unique "Native American with global accents" philosophy via the menus he introduced when he opened Kai in 2002 at the Sheraton Wild Horse Pass in Chandler, Arizona's only five-star, five-diamond restaurant. You'll even find his cookbook collaboration, New Native American Cuisine: Five-Star Recipes From The Chefs Of Arizona's Kai Restaurant, on my book shelf. Since leaving Kai in 2012, he has continued to to forge his path and follow his adventure, including stints at Sheraton Grand Phoenix and operating his own restaurant group, before arriving in Sedona.
As Executive Chef of L'Auberge de Sedona (find out more about this gorgeous creekside resort here), he brings his creativity and prowess to this luxury property's on-site restaurants, Etch Kitchen & Bar and Cress on Oak Creek. Needless to say, when I received an invitation to explore Chef O'Dowd's dishes on a media trip to L'Auberge, I didn't hesitate to say yes.
Cress on Oak Creek's idyllic creekside setting has earned L'Auberge recognition as one of the "Top Ten Restaurants in the Southwest" by Condé Nast Traveler and one of the "Top 100 Al Fresco Dining" spots in the U.S. by OpenTable. Open daily at 5 pm, guests can choose three- or four-course dinners with optional wine pairings, but to fully experience Chef O'Dowd's culinary magic, I suggest ordering the Chef's Tasting Menu, expertly paired with wines by Sommelier Michael.
After pre-dinner cocktails at Etch (and great service with bartender Angela), we were escorted to our table perched on the banks of Oak Creek for this incredible dinner:
We started with Craggy Range Te Muna Vineyard New Zealand Sauvignon Blanc. Its fruit and acidity was a perfect partner to a wonderful sweet pea, edamame, and creek cress soup poured around a mound of fresh crabmeat, lobster and corn, and embellished with dehydrated tomato dust and micro greens.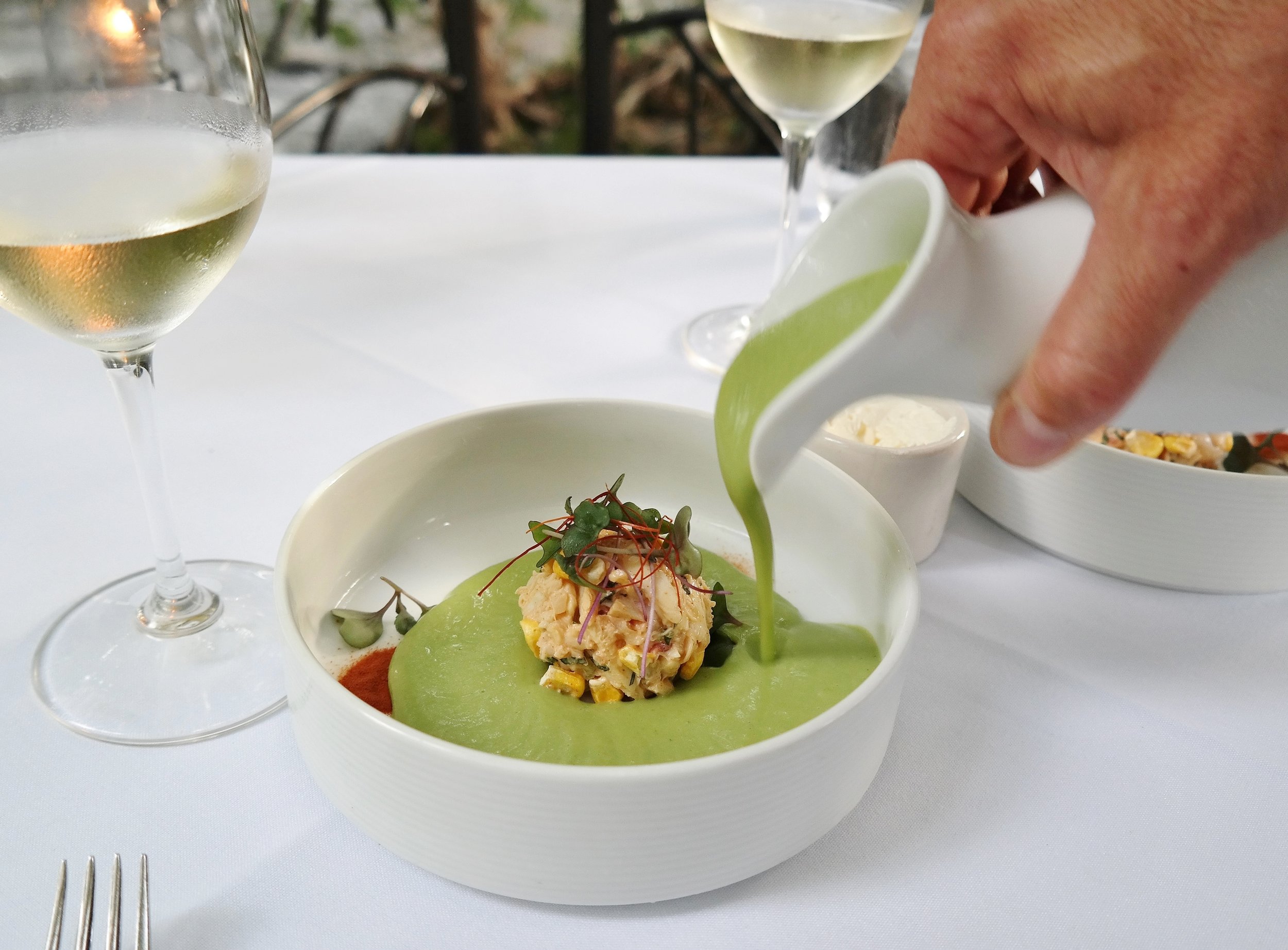 A golden pour of Cru Barréjats Sauternes heralded our foie gras course.
And wow, what a decadent course this was - delivering seared foie gras on buttery brioche with lingonberry jam on a whimsical swathe of toasted marshmallow fluff, with foie gras powder, black truffles, and candied cippolini onions. It was a a perfect representation of Chef O'Dowd's creativity and another stunning plate.
Next was an equally fabulous melange of textures and tastes - a bright and fresh salad starring sweet and juicy canteloupe, yellow watermelon, sliced apples and grapes, strewn with citrus ice, and accompanied by a dragonfruit cube topped with balsamic pearls. My favorite Chef O'Dowd touch? Slices of sweet and smoky lap chong (Chinese sausage), tying everything together into a perfect harmonious medley. This was paired with an aromatic Domaine de Triennes Sainte Fleur Viognier and its underlying notes of melon and lemon zest.
"This might give you a clue that next is something Italian," said Michael as he poured a Vajra Barbera d'Alba Superiore from Piedmont, Italy. Chef O'Dowd's open-faced lasagna was another delicious winner. A silky ribbon of pasta was slathered with a rich and intensely-flavored tomato sauce and piled high with orbs of milky housemade mozzarella, locally-grown root vegetables, asparagus, colorful cauliflower florets, umami-laden black garlic, and fresh sprouts, creating another mouthwatering combination.
I'm a seafood lover and our next course sang of the sea. Paired with a Spanish Burgans Albarino, seafood ceviche delivered pure and pristine bites of steelhead, scallop, and amberjack. Chef O'Dowd's elevated accents included a bed of thinly-sliced iced smoked trout, pickled chard, green algae powder, banana, and avocado mousse in a citrus "broth." Bananas and seafood might be reminiscent of casual beachside huts in the tropics, but in Chef O'Dowd's hands they once again exemplified his sophisticated and innovative palate.
A stellar Bordeaux and venison pairing was the main course for our al fresco repast. We sipped on Chateau Lassegue Les Cadrans de Lassegue Grand Cru as we relished a juicy steak of mole spice-rubbed venison with creamy Peruvian purple potato puree, locally-harvested vegetables and a rich juniper-scented demi-glace.
A fitting end was indulging in a dessert of gold leaf-gilded chocolate pyramids with 1978 Barbeito Sercial, a dry madeira with a warm finish of figs and hazelnuts.
A picturesque setting paralleled by an exclusive dining experience - Cress on Oak Creek with Executive Chef Michael O'Dowd is a culinary treat not to be missed.
L'Auberge de Sedona boutique resort and spa is located at 301 L'Auberge Lane, Sedona, AZ 86336. Etch Kitchen & Bar is open for breakfast, lunch, and dinner; call (866) 584-0804 for reservations. Cress on Oak Creek is open daily 5 to 9 pm. Reservations (866) 584-0804 or OpenTable. Luxury accomodations include 62 Vista, Creekside, Garden and Spa cottages and 21 Lodge guest rooms. For lodging reservations, call (888) 759-0083
I received a media invitation and my stay was complimentary.